Dr. Else Christoffersen,
MB., B.Ch., LRSP & SI, McS Dermatology (Cardiff)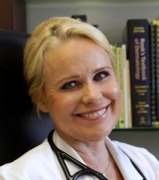 Dr. Christoffersen has a Diploma and MSc in practical dermatology from the Cardiff University having completed her dissertation on "Common dermatological conditions in richly pigmented skin" with distinction.
Dr. Christoffersen is originally from Norway and qualified as a medical doctor (M.B. BCh., BAO, LRCPI, LRCSI, ) from the Royal College of Surgeons in Ireland (National University of Ireland) in 1989. She received her postgraduate training in Canada and UK. Dr. Christoffersen has been practicing in Cayman Islands since 2008 prior to which she was worked in Canada and Jamaica. She has extensive experience and training in dermatology including skin cancer screening and treatment as well as family medicine. She offers a holistic approach to the aesthetic consultation combining different treatment methods to address your concerns (aging with loss of volume /texture or wrinkles; pigmentation disorders; inflammation; rosacea; acne; etc.) in order to maximize your well-being and skin health. Being aware that the appearance of your neck, chest, hand and body is to your total self-image these areas can also be addressed. The confidence of knowing that you look your best has been shown in scientific studies to be a significant factor in improving self-esteem.
Dr. Christoffersen is continuously engaged in postgraduate education and seminars to ensure she has the most up-to-date knowledge, treatment and technologies. She is a leader in bringing new diagnostic and therapeutic devises to the island. The Foto FinderŽ Mole Mapping system along with Photodynamic Therapy (PDT) is unparalleled in skin cancer detection and treatment.
She continually searches for the best possible therapies and products to help patients optimize their health and to help them feel and look their best. Dr. Christoffersen uses ZOŽSkin Health products to treat her patients having found the results achieved are consistently spectacular. These are physician-only-dispensed skin care products which offer a comprehensive solution for managing all skin types and conditions.
As a caring and compassionate physician Dr. Christoffersen utilizes her extensive knowledge along with current procedures to offer patients the best possible care with the highest professional standards.
She has been appointed a Senior Aviation Examiner - AME - by the FAA (Federal Aviation Administration) and the Cayman Islands Civil Aviation Authority.
She is the Panel Physician for Citizenship and Immigration Canada in Cayman Islands.
Dr. Christoffersen is a member in good standing of:
Cayman Island Medical and Dental Council (CIMDC)
General Medical Council (UK)
Medical Council (Ireland)
Medical Council of Jamaica
The Dermatology Continuing Professional Development Society (DCPDS)
Harvard Medical School Postgraduate Association
The Caribbean College of Family Physicians
Cool Sculpting® Certified Physician
She holds the following appoints:
Dr. Christoffersen can be reached by phone at +1 (345) 943 6363 or by e-mail at: dr.else@cayman-doctors.com